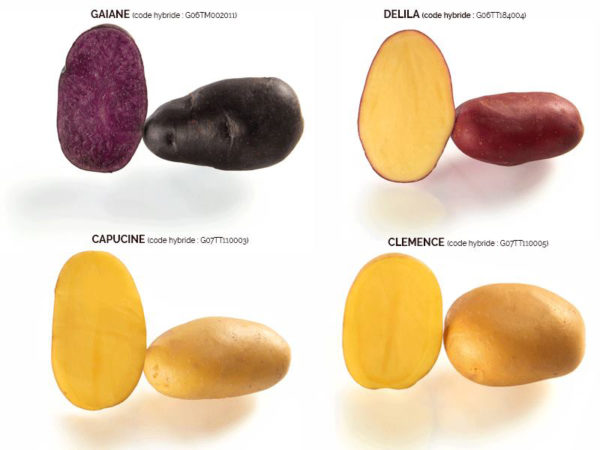 CAPUCINE
Rustic variety with dark skin and flesh.
– Its yield is higher than that of Charlotte.
– Resistant to potato wart disease (path 1) and nematode (Ro1).
– Excellent eating quality (Group A)
– Excellent flavour.
CLEMENCE
Variety with a beautiful shiny yellow skin and a very dark yellow flesh.
– Washable skin quality.
– Variety that will express its potential yield and flesh colour if the crop cycle is long enough.
– Variety that combines several high level resistances. It could be suitable for organic production.
DELILA
Variety of consumption, environmentally friendly.
– Semi-late to late variety, with a yellow flesh and a beautiful red skin.
– The tubers are oblong shaped
– It is particularly adapted to the conditions of the Mediterranean basin.
– The major qualities of this variety are its excellent storage ability, with a very long dormancy and a good level of resistance to several diseases (blight, PVYntn virus, Alternaria), making a variety " respectful of the environment".
GAIANE
Early variety with purple skin and flesh.
– Short form, with a beautiful shiny skin.
– Very good culinary quality, with a nice homogeneous flesh after cooking. The taste is very appreciated.
– In comparison with Vitelotte, this variety is much earlier, with a higher yield (40%) and a better presentation.
– Could be tested for the manufacture of chips.