Monday, May 11, 2020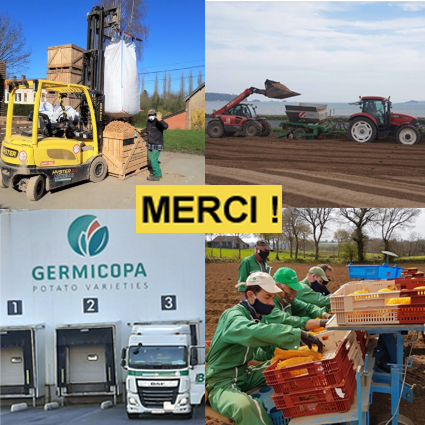 In France, the containment we were forced to use has been lifted, but we remain cautious, as the Germicopa teams have been for the last 58 days. In spite of the countless difficulties in staying within the right timing of seed potato deliveries and the establishment of the trial fields, all the employees and partners (producers, transporters, customers) of our company have mobilised and have brilliantly met all the challenges! We can legitimately take great pride in this and thank everyone for their involvement!
~
Monday, May 4, 2020
Good morning, everyone. Last week of confinement for France…well, we hope! Meanwhile, our seed potato growers have made good progress in their plantations: 82% in Brittany and 93% of the surfaces in the North of France. A huge THANK YOU for their mobilization to: our seed potato growers, our customers, our Logistics, Production and Sales teams for this rather special end of campaign!
~
Monday 27th April 2020
Good morning, everyone. Last week, seed potato growers made good progress in their planting. In Brittany, 80% of the areas were planted, and 72% of the areas in the north of France.
~
Monday 20th April 2020
Good morning, everyone. An update on the situation at the beginning of this week: 98% of the shipments of seed potatoes have been made. Thanks to favourable weather conditions, seedling producers are making rapid progress in their plantings (50% in Brittany, 40% in the North). Plantations of ware potatoes are progressing well in all regions.
~
Monday 13 April 2020
Good morning, everyone. A quick update on the situation: deliveries of seed potatoes are continuing at a very steady pace and, as far as planting is concerned, all regions are busy. Thank you to all the professionals in the sector who are mobilizing for our food of tomorrow!
~
Monday 6 April 2020
Good morning, everyone. We hope you are all well! On our side, we continue the deliveries of seed potatoes at a steady pace and on the production side, the plantations of the selection fields have started in good climatic conditions. Let us thank once again our collaborators, our growers and our customers for their strong involvement and mobilization.
~
Monday 30 March 2020
Hello everyone! For the 3rd week [in time of containment], we continue to ship potato seed at an intense pace. Last week, we shipped several hundred trucks, i.e. a few thousand tons, from the Landivisiau and Auchy platforms, thanks to the efficiency and mobilization of our teams, whom we would like to thank! Good luck to everyone and above all, take care of yourself!
~
Monday 23rd March 2020
Hello everyone, as we told you last week, a specific organization has been set up at Germicopa to limit human contact as much as possible and to continue the shipment of plants in the best possible conditions. Thanks to the involvement of all our collaborators, whom we thank for their efforts and the good state of mind, the first week of shipment (in confinement time) went well. The 2nd week is starting, it may be more complicated but we are ready and motivated. Good luck to all of you!
~
Monday 16th March 2020
Following the measures announced by the French government concerning the Covid-19, Germicopa teams are mobilised to limit the impact of this crisis on our activity and our industry. We are making every effort to ensure deliveries under the best conditions, both in France and abroad, and thank our employees for their professionalism and commitment. If you have any questions, we can be contacted by e-mail or telephone. Thank you for your trust and take care of yourself!